Collaboration with the VT ARC Visionarium
The Virginia Tech Transport Theory Group (VT3G) has been collaborating with Drs. Nicholas Polys and Srijith Rajamohan of the Advanced Research Computing (ARC) Visionarium group for the development of a Collaborative Virtual Reality System (VRS) for the RAPID Code System, called VRS-RAPID.
The VRS system can be adapted to different physical phenomena by development of suitable input/output structure, and it has been submitted to the Virginia Tech Intellectual Property (VTIP) for a patent provision.
Click here for further information regarding the ARC department and the Visionarium.
VRS-RAPID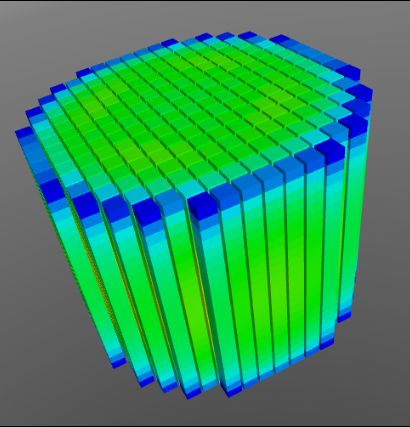 VRS-RAPID is a collaborative web-application for intuitive input manipulation, real-time simulation, and output analysis and 3-D visualization of nuclear systems using the RAPID Code System.
VRS-RAPID allows for collaboration of different users via its web-interface. Due to its real-time simulation capabilities it can be an extremely useful tool for professionals/students training in the nuclear engineering field, regulators, nuclear power plants and spent fuel systems operators, core design and management, material accountability, and nuclear safeguards and security.